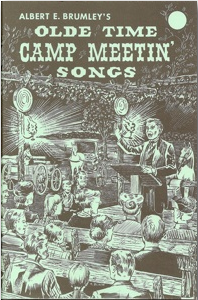 Olde Time Camp Meetin' Songs
$5.00
Description
Songs of a by-gone era, made popular in camp meetings and brush arbor revivals between 1850 and 1940.
---
Olde Time Camp Meetin' Songs – INDEX
A Beautiful Life
Amazing Grace
Am I A Soldier Of The Cross
An Old Account Settled
Beautiful Isle Of Somewhere
Blest Be The Tie That Binds
Bring Back To Me My Wandering Boy
Bringing In The Sheaves
Count Your Blessings
Diamonds In The Rough
Doxology
Farther Along
Glory To His Name
God Will Take Care Of You
Hallelujah, We Shall Rise
Hold Fast To The Right
Hold To God's Unchanging Hand
How Beautiful Heaven Must Be
I'll Fly Away
Just Before The Battle Mother
Keep On The Sunnyside Of Life
Leaning On The Everlasting Arms
Let The Lower Lights Be Burning
Lord, I'm Coming Home
Must Jesus Bear The Cross Alone
Never Alone
No One To Welcome Me Home
Nothing But The Blood
O Come, Angel Band
O Happy Day
Onward Christian Soldiers
O Why Not Tonight?
Precious Memories
Put My Little Shoes Away
Row Me Over The Tide
Softly And Tenderly
Stand By Me
Standing On The Promises
Swing Low, Sweet Chariot
The Church In The Wildwood
The Great Speckled Bird
The Model Church
The Old Time Religion
The Old Country Church
The Pearly White City
The Picture From Life's Other Side
The Picture On The Wall
The Royal Telephone
The Unclouded Day
This World Is Not My Home
Twilight Is Falling
Watching You
We Are Going Down The Valley
When I See The Blood
When The Roll Is Called Up Yonder
When They Ring The Golden Bells
When The Saints Go Marching In
When We All Get To Heaven
Where Is My Boy Tonight?
Where The Soul Never Dies
Where We'll Never Grow Old
Whispering Hope
Will The Circle Be Unbroken
Will There Be Any Stars?