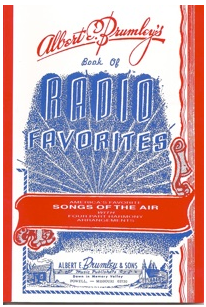 Description
A selection of older sacred and sentimental songs of the past. America's favorite "Songs of the Air". You'll find 124 songs with four part harmony arrangements.
---
Radio Favorites – INDEX
A Beautiful Life
Amazing Grace
An Empty Mansion
An Old Log Cabin For Sale
Beautiful Isle
Blest Be The Tie
Camping In Canaan's Land
Cleanse Me
Did You Ever Go Sailin'?
Do You Know My Jesus?
Everybody Will Be Happy Over There
Farther Along
Gathering Buds
Gathering Flowers For The Master's Bouquet
Gethsemane
God Be With You
God Put A Rainbow In The Cloud
Hand In Hand With Jesus
He Set Me Free
He Whispers Sweet Peace To Me
He Will Pilot Me
He'll Understand and Say "Well Done"
He's Got The Whole World In His Hand
He's The Lily of the Valley
Heaven
Heaven Will Surely Be Worth It All
Her Mansion Is Higher Than Mine
Hide Me, Rock of Ages
Hold To God's Unchanging Hand
How Beautiful Heaven Must Be
I Cannot Find The Way Alone
I Found It In Mother's Bible
I Heard My Mother Call My Name In Prayer
I Just Steal Away and Pray
I Know the Lord Will Make A Way
I Need The Prayers
I Want To Be Ready To Meet Him
I Want To Walk Just As Close As I Can
I'd Rather Be An Old-Time Christian
I'd Rather Have Jesus
I'll Be A Friend To Jesus
I'll Fly Away
I'll Have A New Life

I'll Live In Glory
I'll Live On
I'll Meet You In The Morning
I'll Not Turn Back
I'm Bound For That City
I'm In Love With Jesus
I'm On The Battlefield
I've Found A Hiding Place
If I Could Hear My Mother Pray
If We Never Meet Again
In The House Of The Lord
Jesus, Hold My Hand
Jesus Passed By
Jesus Whispers Peace
Just A Closer Walk
Just A Little Talk With Jesus
Just A Little While
Just As I Am
Just Over In The Glory-Land
Just A Rose Will Do
Kneel At The Cross
Leaning On The Everlasting Arms
Looking For A City
Lord, Build Me A Cabin In Glory
Lord, I'm Coming Home
Lord, Keep Me Close To Thee
May We Meet Again
Must Jesus Bear The Cross Alone
My Mother's Bible
Nearer, My God, To Thee
No Place To Hide
No Tears In Heaven
Nothing But The Blood
On The Jericho Road
Only One Step More
Precious Memories
Redeemed
Revive Us Again
Rock of Ages
Shake Hands With Mother Again
Silent Night
Softly and Tenderly
Some Glad Day After While
Sometimes It's Hard To Understand
Standing On the Promises
Supper Time
Sweet By-and-By
That Glad Reunion Day
The Blood That Stained The Old Rugged Cross
The Glory-Land Way
The Lily of The Valley
The Love of God
The Old Country Church
The Old Gospel Ship
The Pearly White City
The Rainbow of Love
The Rest of My Life
The Royal Telephone
The Sweetest Name
There's A Little Pine Log Cabin
This World Is Not My Home
Turn Your Radio On
Victory In Jesus
Way Down Deep In My Soul
We Shall Meet Some Day
What A Friend
What A Savior
When God Dips His Love In My Heart
When He Reached Down His Hand
When I Make My Last Move
When I Reach That City
When The Saints Go Marching In
When They Ring The Golden Bells
When We All Get To Heaven
Where He Leads Me
Where The Fadeless Flowers Grow
Where The Roses Never Fade
Where the Soul Never Dies
Where We'll Never Grow Old
Who At My Door Is Standing?
Who Is That?
Won't It Be Wonderful There?