The 48th Annual Gospel Sing Saw Record Walk-in Fans to the Festival Held at the Mabee Center
Tulsa, Oklahoma (August 9, 2016 ) – The Brumley Gospel Sing Kicked off its 48th year in Tulsa on August 3rd with a host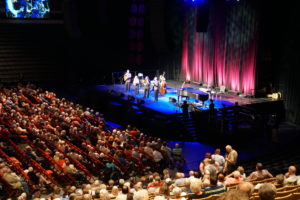 of the world's greatest Gospel music artists who performed for enthusiastic fans for four days at the Mabee Center. This year's annual Gospel Sing featured the most recognizable faces of Gospel Music all hosted by Bob Brumley, the CEO of Brumley Music Company. The City of Tulsa welcomed the Gospel Sing for the very first time, after it moved from Lebanon, Missouri last year.   (www.brumleymusic.com).
"We saw record setting walk-ins to the Gospel Sing each day," said Bob Brumley, CEO of Brumley Music Company. "Fans really enjoyed our four days of Gospel Music and many of our day guests came back for more the next day. We thoroughly enjoyed Tulsa and the energy of the Mabee Center. We look forward to our 49th Annual Brumley Gospel Sing next year."
In addition, The Woody Guthrie Center opened an exclusive exhibit honoring Albert E. Brumley, the founder of Brumley Music Company and creator of the most recorded song of all time "I'll Fly Away." The company's foundation, The I'll Fly Away Foundation, bears the name of the song (www.illflyawayfoundation.org).
Music wasn't the only thing filling up the Mabee Center. Love was in the air as newlyweds Carl & Sheri Brown decided to spend their honeymoon at the Gospel Sing. After dating for seven years, the couple from Shawnee, Oklahoma got hitched! The couple decided to get married on August 2nd, 2016 so that they could spend their honeymoon at the Brumley Gospel Sing where they plan to spend all future anniversary celebrations also. The Brown's story proves Gospel music brings people together and the legacy of Albert E. Brumley lives on through the joyful and meaningful lyrics of every performance. The bride, Sheri has been coming to the Brumley Gospel Sing since the mid-1980s when it took place in Springdale, Arkansas. She hasn't missed one and brought her new husband to his first Gospel Sing in 2008.
PRESS CONTACT for interviews and coverage: Caroline Galloway 440-591-3807 or caroline@m2mpr.com