What happens when a young man from Powell, Missouri, (population 15) named Ben Wiseman gets up enough courage to walk into Brumley Music Company unexpectedly to meet one of the biggest names in Gospel Music, Bob Brumley?
A legendary leader in Gospel Music decides to take the young man under his wing and advises him on the business…that's what happens.
Ben Wiseman,  a 17-year old aspiring musician who wanted to meet  Bob Brumley for years often thought about heading into the Brumley Music Group in his hometown.
Nerves usually got the best of him, but he read an article about the famous Brumley bridge in Powell, attended the famous Brumley July 4th celebration and then decided to show up one day.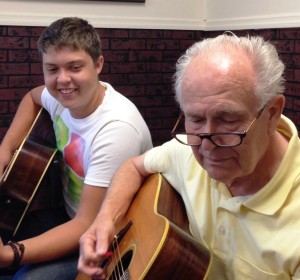 Wiseman, who wants a career in music, needed advice and knew Brumley Music could help.
On Friday, July 17, 2015, Ben finally did what he only dreamed of….he walked through the doors of Brumley Music Group and asked to meet CEO, Bob Brumley.
Showing up with his Martin D-28 acoustic guitar in hand, he told Bob of his musical aspirations. Brumley quickly turned the meeting into a jam session where both played songs in the office and talked at great length about the business.
Passing on all that he knows, Brumley gave Wiseman knowledge of the business, advice on where to start and inspiration not to give up on any of his dreams.
Brumley also shared the history of Albert E.  Brumley with Wiseman who left the meeting with a plan in his head and stars in his eyes.